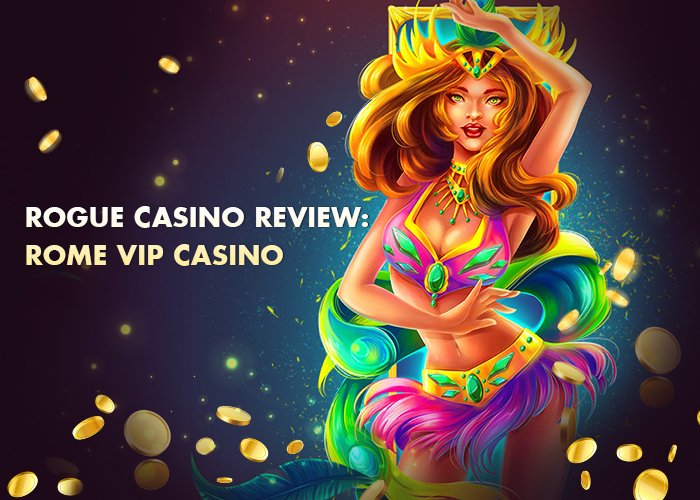 When in Rome, do as the Romans do. Everyone knows this ancient saying; it dates back to the times when the Roman Empire ruled most of the world (or at least the discovered part of it). Everyone wanted to be a Roman; it meant you belonged to a high-class level of society. Well, in this case, do not do as Rome VIP Casino does, even for a moment, or you might end up in prison as well.
This online gambling platform was launched by Engage Entertainment Group in 2008. In all honesty, this business was terrible from the beginning. The company owns a couple of online casinos, and there were repeated complaints from players about each of them. It is either horrible terms and conditions or the absence of payouts. As far as we could find out, the casino operates from Costa Rica, although the people behind it put significant efforts to hide this fact for some reason. In this review, we decided to dig deeper and figure out how rogue Rome VIP Casino is.
First Impression
Like any other site operated by Engage Entertainment Group, Rome VIP Casino looks flawless. It offers a user-friendly interface that makes it easy for players to navigate. Its website is dark-themed, and only the game icons are more colorful. The casino offers a variety of games of all kinds. We believe that fans of online slots will be most satisfied, as the biggest part of the website content is dedicated to this form of gambling. Along with the slots, Rome VIP Casino offers plenty of video poker games as well as live casino.

The selection of live casino games is quite rich, including baccarat and blackjack with live dealers as well as live roulette; some players prefer the 'real' feeling of the gambling process. Rome VIP Casino offers bingo games on top of that. Although everything about the casino seems perfect at first glance, we consider this to be nothing but a decoy.
Games and Software
Most of the games in Rome Vip Casino are from BetSoft, Parlay, and Pragmatic Play. It is true that these are well-known names in the betting software industry but not nearly as good as NetEnt, for instance. We suppose that the casino could have invested a bit more money into adding some A-grade games into the selection.
Moreover, there are not enough table games offered; your choice is limited to only 14 games. If you're a wise person who likes to test the product before buying it, the slots feature the 'try now' option. Thus you can check how a particular slot looks like, how it works, and understand what your chances to win are. Be careful though, a lot of rogue casinos have programmed the test versions of slots that provide more winnings and better RTP (Return To Player). Don't let yourself be fooled by one of these oldest tricks.
User Experience
While digging deeper to find out why users and other reviewing websites speak of this casino as a rogue, we discovered that the biggest issue lies in Terms and Conditions. Everything written in this document is entirely illogical and false. Let's take a closer look.
One of the main issues is the withdrawal period. It varies between 15 and 18 working days. In the best case scenario, you will get your money in two weeks; however, if you add weekends, you can expect your money in 19 days. As it usually happens, the best case scenarios are quite seldom — therefore, you might get your winnings in approximately 24 days.
Sounds like a long time, right? Well, it gets worse. The withdrawal period begins once the casino approves your withdrawal. According to many of its users, the pending period is infinite. If you add together all the waiting and the procedures, you can expect to receive your money in approximately 2-3 months. If you're lucky.
Here's another ridiculous rule — the maximum amount you can withdraw is $1500. So if you win anything above that, you will have to wait. Let's put things in perspective for a moment. For example, you make about 3 million USD by gambling in Rome VIP Casino, and you want to withdraw it all or at least most of it. Do the math: it would take you approximately 70 years to receive all of the money you won. Maybe, Rome VIP Casino is hoping science will show progress in making us immortal?
The maximum withdrawal amount is also applicable to progressive jackpots, so no matter how you put it, the obstacles to receiving your winnings are aplenty.
Video Slots
In the year 2009, a lot of the online slots in Rome VIP Casino didn't have wild symbols necessary for the jackpots. This made players furious, and rightfully so. This situation turned into a scandal, and the online community lashed out at the casino so hard that it had to apologize publicly. You might think that the management admitted its fault and made things right; unfortunately, things went differently. The casino simply blamed it on a software bug they weren't aware of. We let you decide whether this was truth or just a blatant lie.
Terms and Conditions
Rome VIP Casino is a living proof that you should read everything you see written in the fine print with great caution. One crucial part of terms and conditions is hidden at the bottom of the page, which is probably the casino's attempt to conceal it from players' view: should the gambler be inactive for three months, the casino will have the right to embezzle his or her winnings.
That's not news that casinos shut down inactive accounts, this is a policy that many online casinos follow. However, it is entirely new that this period is three months only. Not just that, but Rome VIP Casino also reserves the right to keep all of the real money on the account that was never withdrawn. In case a player does come back after the three months period, the casino promises to 'investigate' the case. We're not sure if you should put your trust in this.
Bonuses and Promotions
The casino provides free spins as a welcoming bonus. Other incentives are offered to loyal players. There is a deposit bonus as well, 675% on your first five transactions. You may earn a lot of money, but you definitely won't be able to withdraw any of it.
In case you're wondering how this casino gets away with everything, the answer lies in the license. Rome VIP Casino was licensed in Costa Rica; therefore, you won't get any answers.
Customer Support
Among other things, customer support is flawed too. The agents are unresponsive and not helpful at all. A lot of players claim that if you seek help from customer service they will only copy Terms and Conditions and send it to your e-mail.
Pros and Cons
It was relatively easy to create this list — it consists of cons mostly.
Pros:
Nice website
High-quality software
Cons:
Endless withdrawal period
No payouts
Costa Rica license
Terrible customer service
Dodgy terms and conditions
No wild symbols
Our Verdict
Our final word is that Rome VIP Casino is a rogue gambling site. It represents everything that can be wrong with the online betting business. Moreover, just like the rest of casinos operated by Engage Entertainment Group, Rome VIP Casino exists only to take your cash and keep it for good. Time is money, and with this casino, you are wasting both.
Casino Rating
Complaint Resolution – 1/10 stars
Jurisdiction – 1/10 stars
Software – 6/10 stars
Cashout Time – 1/10 stars
We give Rome VIP Casino 2 out of 10 stars. Had it not been for the software, it would probably be a 1-star casino. Remember to always read reviews before playing with an online casino — your money is at stake. Good luck!