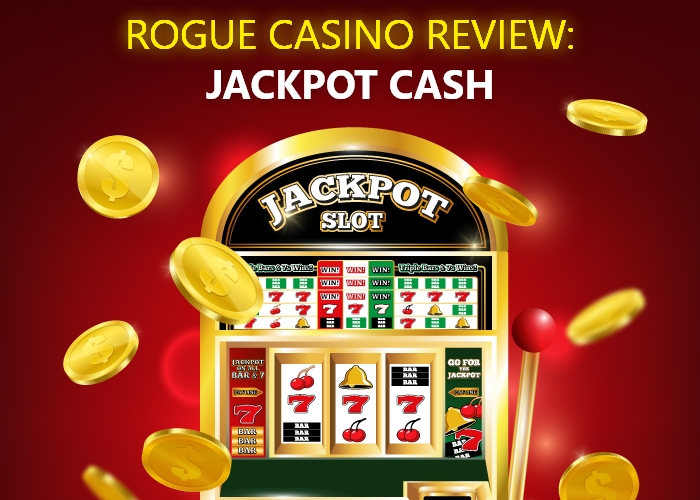 Jackpot Cash is an online casino established in 2010. From that moment on, it continuously failed to strengthen its positions on the online gambling arena. The gambling community does not tolerate fraud and money stealing. Therefore, Jackpot was branded as rogue shortly after its debut. We decided to find out everything about this South African casino and all the reasons why so many review sites moved it to the blacklist. However, you don't need to take much thinking to see that Jackpot Cash probably never cared about its reputation. Its managers seem to be only money-driven.
First Impression
The first thing that came to our mind when we saw its site was – outdated. You may think that a casino, which has been around for ten years, realize the importance of a good interface – well not in the case of Jackpot Cash. It is colored red which is just unpleasant for the eyes, but on the other hand, it is quite easy to navigate. Sometimes simplicity can save the deal; you don't necessarily need to create a glittering website to make it look luxurious. So Jackpot may seem simple and old, but a lot of players appreciate such a simple layout. It is essential to provide players with easy navigation; games should be available at the tip of players' fingers.
Although the site has pros and cons, we don't appreciate the fact that only one currency is supported – ZAR (the South African Rand). Due to this fact, the casino alienated a significant part of its international audience, because there will be additional fees when you need to convert ZAR to all other currencies. And, as is the case with currencies, Jackpot Cash did not invest much in the supported languages. It is available exclusively in English; yes, it's a global language, but many Europeans and Asians still do enjoy playing in their native language.

Luckily, this casino is equipped with some exceptional software to fill the gap in everything it lacks.
Software and Games
The casino owns over 200 games altogether, and gamblers can choose between 12 table games, 16 video poker games, and around 190 slots. If you include a couple of the progressive jackpot games, the casino offers quite a great selection. But the fact that Jackpot Cash has no live casino at all is a major drawback. Yes, you're an online casino; but this does not mean everything needs to be necessarily virtual. Although online gamblers adore playing regular casino games, such as slots and video poker, most of them still like the feeling of an actual casino atmosphere now and then.
The good news is Jackpot Cash bought most of its software from the best software creators on the market. You can find games powered by RTG (Realtime Gaming), NetEnt, BetSoft, and Pragmatic. All these companies offer a fantastic gambling experience, as they produce only top-notch games. No casino could make a mistake by purchasing games from some of these providers, so we consider this a huge bonus for Jackpot Casino.
We'd like to think that the operators go by both quality and quantity, and this is never a bad logic to follow.
User Experience
This is where things get really bad. Players are extremely unsatisfied with Jackpot Cash. The bonuses are unfair, you can only deposit in ZAR, and the customer service does not provide good support most of the time. Judging solely by the players' experience, you can quickly realize why this casino has been blacklisted for many years.
Let us begin with the terrible bonuses. Once you sign up to the website, you're granted with a welcome deposit bonus of R2000, which is approximately $144. Amazing, isn't it? – There's a catch though, to withdraw any money you may win, you need to win 60x the amount of this bonus. This means your winnings should be around $8640 from this bonus alone. It's not impossible, but it is definitely tough to achieve. It becomes apparent that the bonus is nothing but a scam to lure you into the game. As for other bonuses, the wagering requirement is to win 30x the amount of your bonus which is still quite challenging. Try to stay away from these promotions if you can, it will be a $144 entirely wasted; you probably won't see this money back in your wallet.
Along with all the lousy bonuses, the casino deals with a lot of complaints due to its vague terms and conditions. For example, the casino will reward you with free spins for slots, but in the T&C section, it is stated these bonuses are just for fun. To put it simply, you cannot and won't be able to withdraw any of it. Although we strongly recommend all players always read terms and conditions thoroughly, some gamblers are simply too excited, so they scan over and start playing. Unfortunately, this is precisely on what rogue casinos count. They will make the T&C section difficult and tedious to read and leave you utterly oblivious to what you're getting into as a result.
Long Pending Period
Jackpot Cash states that the payout period is two weeks. It is also mentioned that the pending period is 72 hours; if you sum it all up, it will probably take you a month to receive your winnings. This is very slow, mainly because we live in the 21st century. Everything should be done fast and easily.
The casino lets you choose from a couple of different withdrawal methods. You can try to collect your winnings by using Neteller, Visa Card, Wire Transfer, and ECO Card. Watch out though, all of these options will come with a fee, except for ECO Card.
Jackpot Casino is licensed by the KGC (Kahnawake Gaming Commission). This jurisdiction is moderately good, a lot of reputable casinos hold this license. This has significantly improved communication with players and has helped many users claim their winnings. In case you're one of those people tricked by this casino, maybe try to get help from the KGC.
A lot of players have never received their money, and unfortunately, this only confirms the illegal business practices of the casino operators.
Pros and Cons
Jackpot Cash has made many players furious, but for some reason, it still has quite a decent list of advantages.
Pros:
Amazing software
Responsive customer support and real-time chat
Over a decade of experience
The wide selection of games
Cons:
Slow payment process or no payouts at all
The plain website design
Vague terms and conditions
Tricky bonuses
Our Verdict
The judges have spoken; Jackpot Cash is a rogue casino. We warmly advise you to avoid it by all means. There are far too many legitimate casinos online, therefore you shouldn't be wasting your time and money trying out this one. A decent player deserves an excellent casino, so don't sell yourself short and play only with the best.
Casino Rating
Complaint Resolution – 2/10 stars
Jurisdiction – 6/10 stars
Software – 8/10 stars
Cashout Time – 1/10 stars
With the great hope it fixes all its flaws, we rate Jackpot Cash with 4.2 out of 10 stars. It offers incredible software, and customer support is quite responsive. Alas, the casino is still far away from a trusted one; the operators must clean its name first. It is about time they started to resolve all the players' complaints. For the time being, it would be better to stay away from it. Make sure to read as many online reviews as you can and good luck!