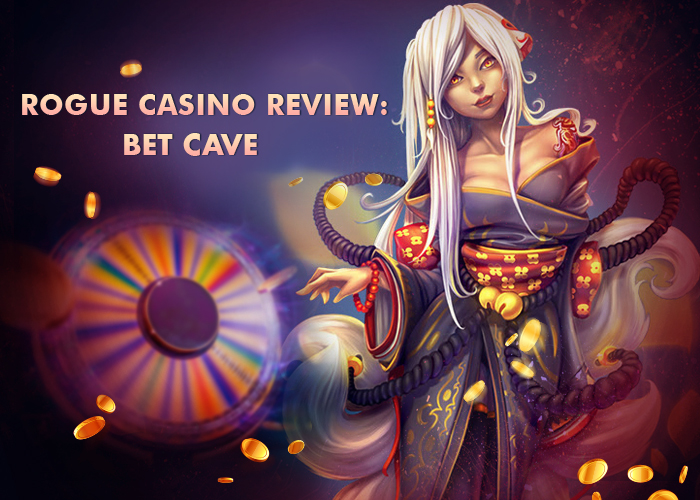 There are countless complaints from players about withdrawal processes that span over several months, as well as casino repeatedly using underhanded tactics to wiggle their way out of paying. 
Hopefully, this rogue casino won't be active for much longer. You should avoid BetCave casino at all cost.
General Information
Bet Cave casino is a part of the Cyberrock Entertainment NV group, an operator that has been repeatedly associated with the infamous Rome casino. This group is notorious for frequently wrestling with payment issues, as well as being unresponsive to player complaints.  

The casino is unlicensed, which immediately suggests you can expect some form of rogue behavior. Apart from not falling under any jurisdiction, there's an abundance of problems related to the Bet Cave casino. Most notably, they tend to refuse to pay players and affiliates, and tweaking their Terms and Conditions to justify account wipes.   
As a result, the Bet Cave casino is blacklisted by the entire online gambling community. It has the worst possible user rating on several watchdog portals, and the player base is well-aware of the casino's unethical, rogue behavior. 
Which begs the question: how and why does this mockery of a casino still exist?
First Impression
It's impossible to have a good first impression of the Bet Cave casino since its website is an abomination. It's apparent that they've attempted to incorporate the cave theme into the site, but sadly – they've failed miserably. 
Whoever designed the website decided that it's a good idea to mix the colorful cave background with comprehensively white sections. To make matters worse, they went with a light grey text color on a white background, making the text nearly impossible to read. You'll have to squint your eyes and lead into the monitor to see anything it the "About" and "Featured Games Section."
It's almost as if they deliberately wanted to make the website ugly, unapproachable, and difficult to navigate. The casino even chose the worst possible navigation ever. Yup, we're talking about the header navigation that, when clicked, does nothing other than scroll down the one-page site. This didn't exactly fill us with confidence. 
And just when we thought it couldn't get any worse, we scrolled down to the very bottom. You know, the place where a casino is supposed to provide information regarding the operator and the license they hold. And, what did we find? Nothing. There's absolutely no information about the casino itself anywhere on the "website." 
The lack of license or information on the owners of the casino is an obvious red flag. If we visited Bet Cave with an intent to play there, we would've closed the tab and left the casino for good the second we noticed. 
Bonuses
Although there's no information that would give players any idea about who's pulling the strings of this rogue casino, there's a gigantic banner promoting Bet Cave's "insanely good" bonus offers. 
Lack of information and jurisdiction, combined with "generous" bonuses… The perfect setup for a casino that aims to scam the players and steal their winnings.
First, Bet Cave lures you in with a $50 no deposit bonus, 100 free spins, and other seemingly amazing deals. Then, as soon as you start playing, you'll hit the first hurdle – the casino's unreasonable wagering requirements and questionable terms. 
What the banner doesn't tell you is that the bonuses are sticky and can never be withdrawn. On top of that, the bonuses are restricted to slots exclusively. If you make a mistake and wager them on a different type of game, the casino will take all of your winnings. 
The free bonus wagering requirements range from 20x to 60x bonus. Apparently, Bet Cave can adjust the wagering requirements however they see fit, without any notice. You must win at least 2x bonus to be able to withdraw in the first place. The minimum deposit for any kind of withdrawal is $25, with the maximum amount you can cash out with the free bonus being $100.  
The second hurdle comes after you've met all the requirements and won enough to make the withdrawal. Unless you deposit $250 or over, your withdrawals will be capped at 10x the deposit. 
Comparatively, that's not as big of an issue as waiting 15 – 18 business days for the approval. That's almost an entire month after the authorization, which can last indefinitely. Instead of a time frame, Bet Cave simply tells you that authorization needs to go through the Fraud department as well.
Games and Software
The fact that BetCave is powered by Rival slightly salvages the situation. 
While playing with bonuses, the casino's restrictions apply. And, if you fail to abide by their rules, they'll confiscate your winnings without a second thought. That said, BetCave fails to inform you as to what your maximum bet size for playing with bonuses is. This has been a point of contention between players and hundreds of casinos in the past. 
Thankfully, Rival's software automatically restricts bet sizes while you have a bonus active. So, you don't have to worry about mistakenly violating the casino's terms by betting over the limit. 
But, that's not the main benefit of offering Rival games. The biggest upside of being a Rival-powered casino is that BetCave is able to offer its players an extensive collection of graphically impressive games. Rival is one of the leading software developers, and they've certainly earned their spot among the best of the best by consistently creating unique, thrilling games with good payouts. 
At BetCave, you'll find a wide variety of remarkable video and 3-reel slots, as well as a decent collection of table games, some specialty games, and a handful of progressives. Overall, there's enough diversity to keep you entertained for hours on end.  
Since Rival is constantly competing with NetEnt, Microgaming, Playtech and other providers for supremacy, they're always creating exciting new slots. So, you can expect a Rival casino to always keep things fresh and interesting.
That said, BetCave is a den of thieves, and you shouldn't be playing here under any circumstances. If you're a big fan of Rival's games, it's best to find another casino powered by this provider. 
User Experience 
Like we mentioned at the beginning of the article, BetCave casino has a long history of not paying their players. 
We're sure you are familiar with the standard procedure – ignoring the requests altogether, delaying the process infinitely, and relying on T&C to null the winnings. Well, BetCave has taken scamming their players one step further. 
In one specific case, the player stated that the casino altered the terms and conditions of the promotion after the WRs were met and the significant sum was won. The rules that should apply in any given situation are the ones that were active when the promotion was claimed. Changing them mid-game would be unethical and immoral, if not illegal. 
But, that didn't stop BetCave. In fact, they've changed the rules after the player had already won to justify the fact that they were simply not going to pay him. Perhaps the operators believed that the player wouldn't notice and they would get away with it… 
However, the player knew full well what the rules were, and was furious to find out that the scumbags at BetCave were prepared to go to such lengths to basically steal his money.
The shady Terms and Conditions are the root of all slow and non-payment issues Bet Cave is experiencing. With this example in mind, it's obvious BetCave's terms were deliberately written as a justification for stealing people's money. 
Support? What support? 
BetCave's operator, the Cyberrock Entertainment group, is infamous for being utterly unresponsive to players and mediators. Naturally, BetCave casino was plagued with this issue as well. 
So, what did they do to deal with it? If your guess was "working on improving their customer service," you've missed by a mile. Instead, these schmucks abandoned all reason and completely removed all contact options from the website.
Maybe it's for the better… It saves people a couple of minutes because they wouldn't have provided an answer to a complaint or question anyway.
Pros and Cons
PROS

Rival-powered; offers over 100 exceptional games 

CONS

Rogue operator

No license

Slow and non-payments

Changing T&C to justify not paying their players

Unresponsive customer support
Our Verdict
Bet Cave is a sinking ship that will hopefully hit bottom sooner rather than later. The entire online gambling industry would be better off without this pathetic excuse for a casino. 
You should keep away from Bet Cave or they'll surely wipe your balance, steal your deposit, and crawl back into their hole to hide. 
Rating
Customer support: 1/10
Cashout time: 1/10
Software: 9/10
Jurisdiction: 1/10
Total: 3/10