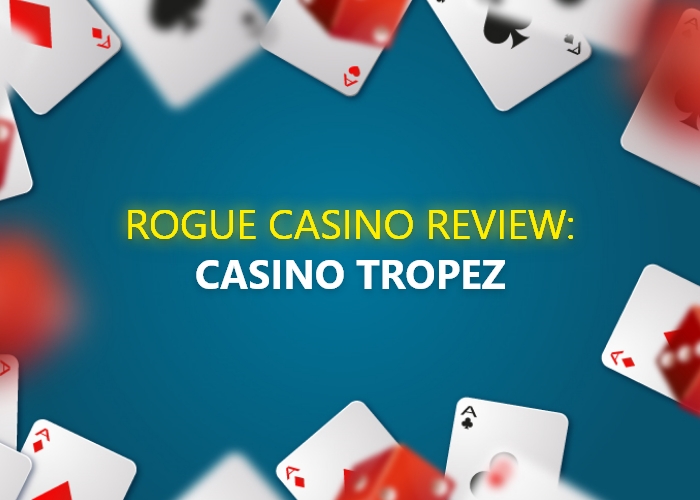 Casino Tropez is a Europe-based online gambling site, operating under the license and regulation of the Malta Gaming Authority. Seemingly a decent Playtech casino on the surface appears to be as rogue as one can imagine if you look closely.
From dodgy terms and conditions to delaying withdrawal requests and locking players out of their accounts, Casino Tropez will stop at nothing just to prevent you from cashing out. We wouldn't advise you to play here, even if it were the only online casino on the planet.
General Information
Casino Tropez is another Playtech-powered gambling site in the EuroPartners group. This group is notorious for being unresponsive to player complaints. The bulk of the issues players are experiencing at Casino Tropez revolve around delayed withdrawals.

It appears that the site is relying on stall tactics and is deliberately prolonging the process. This is both unethical and rogue behavior. The casino is banking on the fact that the players will continue playing their balance in the meantime and return the money to the casino. On top of that, there have been multiple instances where the casino never paid out players' winnings.
To make the withdrawal process even more complicated, Casino Tropez is enforcing predatory terms and conditions on their players. Namely, you can only request a single withdrawal per month. The maximum amount you can cash out is $9,999. What's more, this limitation applies to progressive jackpots as well.
So, if you hit the jackpot on one of Playtech's progressive slots, you'll have to wait a few decades to claim all your money. The more likely scenario is that the casino will close long before they pay you even a small percentage of the winnings. Of course, you have to diligently send a new withdrawal request every month.
The casino's unwillingness to resolve player complaints and their predatory terms are enough to earn Casino Tropez the blacklisted status across the online gambling community. Furthermore, it also warrants our warning: stay away from this rogue casino, or say goodbye to your money.
First Impression
Casino Tropez employs a devious strategy to get new players to register an account. Their entire website is a single page with a massive banner that features the latest bonus. There is a "Play Now" button below the banner. When you click it, it prompts you to create an account before you can start playing.
This is a cleverly designed ploy by the casino. They offer no information whatsoever and are insisting that you register an account first. You can't even tell what types of games are available. Although we can't read minds, it's not difficult to figure out what Casino Tropez is thinking. They hope that you'll stick around after you've gone through the entire account creation process. And if you don't, they will send you emails and even text messages to lure you back.
Vagueness seems to be the leitmotiv of Casino Tropez. Even their terms and conditions are missing critical information. We're alluding to the fact that there's no mention of bonus rules anywhere in their terms. They clearly offer bonuses since one is advertised on the homepage. However, the rules for bonus play and the wagering requirements are absent for some reason.
They simply state that bonuses and promotions are subject to specific T&C, which are available for a limited time. What this means is that, with every time-sensitive bonus they introduce, they are free to write new bonus terms. Do you smell something fishy here?
The only clear thing is that you can't receive a bonus if you deposit through Neteller or Moneybookers. There is no explanation provided for this. They probably want to discourage players from using these 2 banking options since they're among the fastest. It's obvious they're doing everything in their power to delay the withdrawal process.
Games and Software
Once you register the account and claim your "exclusive" bonus, you'll be able to download the casino's client. The casino also provides instant play for those who prefer to play directly in their browsers.
However, there aren't many complaints about the client. It is designed with functionality in mind. You can quickly and effortlessly navigate between different game categories and easily find the Playtech games you enjoy the most.
Playtech is one of the leading casino software providers, so you'll find plenty of visually impressive, exciting games within Casino Tropez. In fact, the casino offers over 150 unique slots, as well as a decent amount of table games, and a few different video poker variants.
On top of that, the software allows you to adjust the speed and animations of the games. Whether you enjoy playing slow or prefer setting auto-spins, Playtech's software will satisfy your gaming needs. The games run smoothly, and you're very unlikely to experience any issues during play.
The impressive library and graphically superior games are the reason why players often choose Playtech over their competitors. Consequently, the games and software portion remains the strongest point of Casino Tropez.
That said, we can't help but wonder why they opted for not displaying the available games on the casino's homepage. If anything, one would expect a Playtech casino to flaunt their games.
User Experience
The player comments about Casino Tropez are somewhat mixed. There are a lot of positive reviews, though you have to look at their contents to see the bigger picture. Most of them are praising Playtech and the casino's bonuses. Few people report good things regarding the casino's customer service. It appears they're taking too long to respond — from several hours in the live chat, to several days via email.
On the other hand, we saw warning words from players that had trouble with Casino Tropez's painfully long withdrawal process. It appears that the casino is delaying the withdrawals without providing any information or replying to players' emails. There are multiple instances where the delay was indefinite, and players were never allowed to claim their winnings.
"Rules Are Meant to Be Broken"
In one particular case, a player had deposited with the casino and went on to win more than €50,000 playing different slots. Since the maximum withdrawal is €9,999 a month, the player was forced to make several requests. However, the casino only honored one €4,600 request. The others were declined promptly, and the player found that his account was locked.
The account was simply labeled "Risk and Fraud" by the casino, although no information was ever provided. The support never answered any of the player's emails, either. They approved another €4,000 request a week later, again without reaching out. In other words, the casino pocketed more than €40,000 and went dead silent.
Just to give you an even better perspective on what type of casino we're dealing with here, here's another example.
One of Casino Tropez's players won £6,400 playing roulette with the deposit bonus. However, when they tried to cash out, the casino refunded his £100 deposit and voided the rest. Although unfortunate, it would be justifiable if it constituted a violation of the casino's terms and conditions.
However, that wasn't the case. Back then, the terms simply stated that playing roulette wouldn't count towards the wagering requirements. Furthermore, the player provided the screenshots that clearly showed a casino representative telling him to feel free to play the roulette at any time.
Still, the casino didn't like the fact that the player won. So, they confiscated his winnings, returned the £100 deposit, and refused to discuss the issue further.
These actions indicate that Casino Tropez is capable of stealing from the players. They're not only abusing the vague terms but are going back on their word and wiping players' accounts.
In other words, even reading their terms and conditions is of little help. The people behind the casino are immoral and unethical, and they won't abide by the rules. Every time players attempted to withdraw sizeable sums, the site representatives made up some stupid excuse and refused to pay up.
The only way to protect yourself from these scammers is to never play in their casino in the first place.
Pros and Cons
PROS

A wide range of graphically impressive Playtech games
Well-optimized download casino; games load fast and run smoothly

CONS

Predatory terms and conditions; ridiculous withdrawal limitations that apply to progressive jackpots
Lack of information regarding bonus play and wagering requirements
Unresponsive and unwilling to work on resolving player issues
Deliberately delaying the withdrawal process
Breaking their own terms in an attempt to justify blatant stealing from players' accounts
Our Verdict
There's nothing else to add about Casino Tropez. This band of thieves doesn't even deserve all that attention we've given them.
Don't play at this or any other sites that are members of the EuroPartners group. They're all run by the same crooks who will stop at nothing to get their hands on your money.
Rating
Customer support: 2/10
Cashout time: 2/10
Software: 9/10
Jurisdiction: 9/10
Total: 5/10