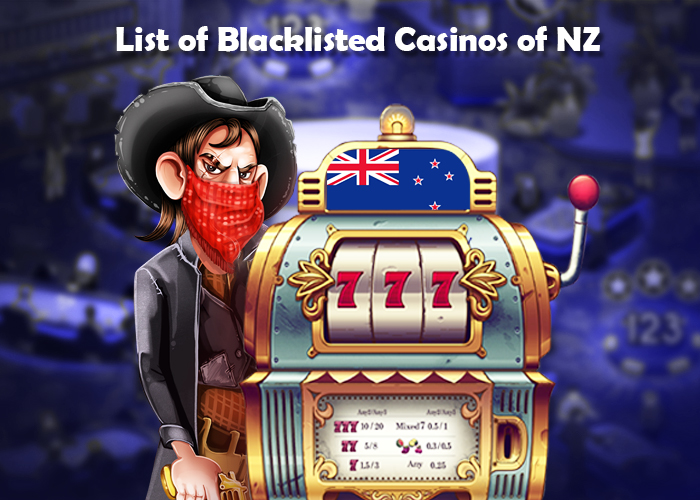 If you enjoy online gambling, the following list will help you learn how to protect yourself from rogue sites. Find out about blacklisted casinos in New Zealand.
Blacklisted online casinos: Rogue websites
Online casino gaming is a fun and possibly profitable activity popular all around the world. There is a bunch of gambling sites on the Internet, which is great because you can choose your game of preference and play it in the comfort of your home. All of you, casino players, can enjoy your favorite games without having to search for a land-based casino. However, not everything is fun and games. The expansion of online casinos has resulted in the appearance of many rogue websites, which is a serious problem in the online gambling community. That is the reason that blacklists exist. They provide you with names of online casinos you should stay away from, as they have turned out to be illegitimate.
There are many casino blacklists, and each of them comprises websites that are available in the part of the world they focus on. Therefore, there is a blacklist for every country in the world, New Zealand being no exception. This is a shout out to you, Kiwi players, welcome to reality. Even though casinos we focus on in this article are not located in the real world, as opposed to land-based ones, the damage they can cause is very real.
This article is based on the experience of a friend of mine, a New Zealand player, who has been unfortunate enough to get scammed. It has been a while since the incident, and I have decided to gather information relevant to the matter, in order to prevent as many people as possible from going through the same ordeal.

Rogue gambling websites can easily be spotted when you know how to recognize them. There are some red flags that indicate an illegitimate online casino, and you will be provided with an insight into them here. That way, you will be as secure as possible while playing your favorite casino game. Make sure to play only at legitimate and reputable online casinos, because it's way better to be safe than sorry.
First of all, pay attention to the way the online casino you consider playing at promotes its services. Do they seem pushy and aggressive? Does their promotional material look too flashy? These can be the signs that something is not quite right. Let me explain. The online casino that ended up ripping off my friend I mentioned earlier used all kinds of suspicious promotional methods. They made phone calls and sent emails, regardless of the fact that he had not provided them with his contact information. They tried and managed to persuade him that their claims were legitimate, which led him to believe their promises about deposit bonuses. Basically, they tricked him into making a deposit without an option of withdrawal, which is something these kinds of websites are inclined to. They falsely advertise generous casino bonuses to make you trust them with your funds. After they have come into possession of your money, they reveal how poor their customer service is by simply ignoring your complaints. Before you know it, you will realize you have been scammed, ripped off, and possibly become a victim of identity theft, as rogue websites are likely to use your personal information for such purposes.
Now that you know how the enemy operates, you need to figure out the means of protection. Other than the list you will be given below, there are several valuable pieces of advice regarding your search of the trusted websites. When you have excluded from your list all the things mentioned above, do yourself a favor and read the terms and conditions section of the website. Even though it is a long and dull text, it is rather informative, and after reading it, you will know everything you need to know about rules and legislation, which will help you decide whether that particular website is the right choice.
In case you still do not feel sure after extensive research, check the blacklist provided for you below. If the website you have in mind is on the list, I highly advise you to walk away from it. No flashy promises and generous offers are worth having your money stolen and your time wasted, keep that in mind.
Blacklisted casinos in NZ
7 Regal Casino
21 Dukes casino
50 Stars
Ace live
Atlantic Casino Club
Atlantic Vegas Casino
Absolute Poker
All Star Slots
Balza Casino
Bella Vegas Casino
Backgammon Masters
Be the Dealer
Casino Bordeaux
Casino Triomphe
CashPot Casino
Company Casino
Casino 1 Club
Euromoon Casino
Gold Gate Casino
Osiris Casino
Palace of Chance
Park Lane Casino
Smashing Casino
Kiwi Bingo
Kiwi Poker
Vegas 24
All of the online casinos you see on the list are there for a reason. Each of them has done something to trigger the shower of complaints and negative reviews. These reasons vary from not delivering payouts to unsolicited use of players' personal information, an unlawful practice that can cause a series of problems for the victim. No matter what the reason is, it has been evaluated as valid and serious enough to put the casino on a blacklist. You have been warned, do not just assume you will be luckier than the other players. It is always easier and better to prolong the research and wait until you find a trusted casino than to risk it. When you think about all the things that are at stake when you enter an online casino, you will have no choice but to agree with me.
Verdict
In conclusion, regardless of whether you are an experienced player or a newbie, you are likely to be tricked into giving out your personal information and trusting a casino with your funds when offered generous bonuses. All jokes aside, everyone gambles with profit in mind, so it is no wonder that the fraudulent gambling websites blossom. Nevertheless, do not just assume that you have been fortunate enough to come upon such an amazing offer. Always ask yourself why would a casino just hand out money like that, and, more importantly, how would they prevent you from withdrawing your money. When you put it like that, you are far less likely to fall victim to fraudsters.
However, a blacklisted casino can be removed from the blacklist if certain conditions are met. These conditions are seriously demanding, and it is that way for a good reason. Provided a casino that has found its place on a blacklist changes the way it operates completely, it can be given a second chance. That means that it has to change the proprietor and obey the rules every online casino is required to play by.
You, as a player, however, do not need to concern yourself with those technicalities. You just need to find a casino suitable to you and check it to make sure it is legitimate. That way, you will be free to enjoy yourself and make money, provided you are lucky enough. Think first, so you do not find yourself in a position to regret something afterward.