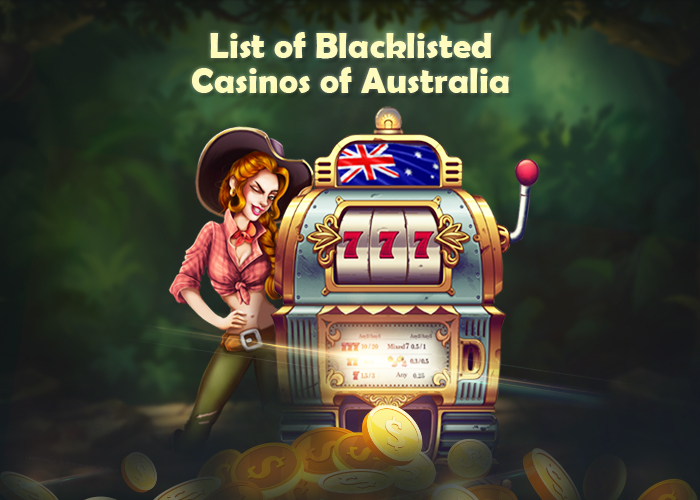 The following article will provide you with the list of blacklisted online casinos available in Australia. Find out how to recognize these rogue sites and learn how to protect yourself.
It exists a plethora of best online pokies reviews in Australia. But this is not exactly what a player needs when they start playing. Since gamblers tend to be suspicious when it comes to potential scams, it is always important to choose the casino with a proven reputation.
Among the online gambling websites available to Australian players, there are quite a few rogue ones. Online gambling fraud in Australia is a problem many gamblers face, so you need to be warned and informed before an illegitimate casino site manages to scam you.
There is a bunch of articles regarding this subject available on the Internet. Reading them will assist you in your search of the good casinos and help you spot the fraudulent ones, given that they can usually be seen on a blacklist.

The first thing you need to know is how the rogue casinos operate. Internet gambling can be a fun and fruitful hobby, so there is a possibility to fall into one of the scammers' traps, as they seem like lucrative offers. Regardless of whether you prefer video poker to casino games or vice versa, rogue gambling sites have their way of approaching you. That statement regards their aggressive promotional methods, such as unsolicited emails and phone calls. You will also notice they frequently use phrases that sound powerful and go out of their way to seem as appealing as possible. Their goal is to take your money, so they will do everything in their power to try and persuade you do trust them with your funds.
In case they manage to make you believe their promises, you will soon find yourself unable to contact them to make a complaint about your payout not being delivered. The reason is their poor customer service, one of the things all blacklisted casinos have in common. That does not come as a surprise, as they do not really care about their customers' experience. Not only will you not receive your reward, but you will also be prevented from withdrawing the money you deposited. That is another thing typical of such websites because that is how they make sure your money stays in their possession.
If you have not been scammed yet, look out for the signs that indicate a suspicious gambling website. Pay attention to information relevant to licensing and legislation, as well as terms and conditions before you consider playing for real money. Google the website and get insight into the experiences of others, usually available in the form of casino reviews. Keep in mind that there are many things that can get an online casino on a blacklist, and these reviews cover them all because all of them violate the rules of online gambling.
Luckily for you, the list below will give you the names of the online casinos you should keep away from, provided you are a player living in Australia. It is essential to browse through it every time you come upon an unfamiliar gambling website. It will prove to be more than useful, as it will keep you from wasting your time, energy, and money.  
Blacklisted online casinos available in Australia
7Kasino

7Red 

7Regal

21 Dukes Casino

21 Grand Casino

Absolute Poker

AdamEve Casino

AllYouBet

Atlantic Vegas Casino

Atlantis Gold Casino

Balzac Casino

BetDNA

Betport

Bingo Gala

Bingo House

Brandy Casino

Card Spike

Carnival Casino

Cash o' Lot

Casinoval

Casino Fiz

Casino Fortune

Casino Solera

Casino Tropez

Dendera Casino

Diamond VIP Casino

Diceland

DollaroPoker

Europa Casino

GamblingWages Group

Games4Money

Giant Vegas Casino

Gibson Casino

Gina Bingo

Goldbetting

Goldgate Casino

Golden Lady Casino

Golden Palace

Gold VIP Casino

Gr88 Casino, Sports and Bingo

GrandWild Casino

Heavy Chips

Jackpot247

Lady Dream Casino

Legends Sports

Liberty Bell Casino

Lock Casino

LotaPlay Casino

Lovelotto

Mermaid's Palace Casino

Mission2Game

Mona Online Casino

Monarchs Online Casino

Money Storm

Oceans Online Casino

OnlineCasino AC

Pantasia

Panther Casino & Sportsbook

Pamper Casino

Planet 7 Oz Casino

Play2Win Casino

Raging Bull Casino

Real Vegas Online

RockBet Casino

Rome Casino

Ruby Seven

Smartlive Casino

Slot Powers

Slotter

SpinEmpire

Spinsville

Supreme Play

Titan Casino

Titan Poker

Topaze Casino

Tradition Casino

Treasure Island Jackpots

Tropezia Palace

Tropica Casino

Tropicana Gold Casino

Ultimate Bet

Vanguards Casino

Vegas Play Casino

Vegas Red

Vegas Regal

VIP Golden Club
It is possible for a casino to be removed from the blacklist, but only under certain conditions. It has to change its way of operating, along with the ownership. When it starts obeying the rules, its removal from the list can be taken into consideration. Of course, the process is long and requires a lot of hard work, because it is far more difficult to prove to be legitimate after being fraudulent. Nevertheless, you do not need to concern yourself with these technicalities. You simply find a website that is not on the blacklist, do your research as described, and enjoy the fun. You deserve to be treated fairly for your money.
Summary
As it has been already mentioned, each of these casinos is on the blacklist for a certain way of violating the rules according to which a gambling site should operate. Whether it is ignoring the players, keeping the money that should be paid out to them, preventing them from withdrawing their funds or something else, the very fact they are on the list is a major red flag. You should avoid such websites at all costs, unless you want to end up disappointed and broke.