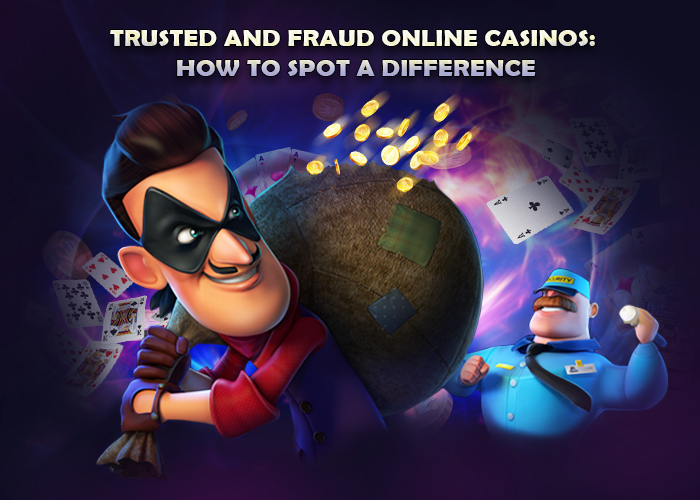 Check Our List of Safety Casinos 2020
This article, along with casino reviews, will help you spot a fraud online casino and learn how to tell which ones can be trusted.
Although the world of online gambling is appealing with its flashy design, fun games, and generous bonuses, there are many fraudulent gambling sites. Before you decide to accept a generous online casino offer, you need to be well informed whether that particular casino is in fact legitimate. You are strongly advised to look before you leap into it so that you have no regrets afterward. Luckily for you, this article will help you search for the signs that indicate trusted online casinos, as well as show you how to report casino fraud, in case you face it.
If you are considering online gaming as an inexperienced player, or if you are searching for a reliable online gambling website as an experienced one, gather relevant information before you start playing. These pieces of information comprise terms and conditions, scam reports you can find about a certain website, and others, all of which will be provided for you in this text. You will find them useful when it comes to recognizing and avoiding rogue casinos. You will also be provided a list of top casinos that can be trusted for sure, which will probably make your selection process easier.
Know your enemy
In order to be able to protect yourself from scammers, you need to know which tricks they are likely to use. That way, you will know what to concentrate on when searching for a gambling website, as well as spot a red flag when you happen to run into it. Even though fraudsters are highly skilled at their craft, there are warning signs that are quite noticeable when you know what to be on a lookout for. These warning signs may actually seem like a really generous offer or a perfect opportunity to make some money on the side. You may even be under impression that you need to react right away, so that you do not miss it. Do not let yourself be fooled, these are all the tricks fraud online casinos use in order to scam you into giving out your money or personal information.
A little too generous
Always keep in mind that it is highly unlikely to be rewarded with a huge bonus just like that. There are legitimate online casinos that offer bonuses and games that comprise lucrative features. Nevertheless, if an offered bonus seems unrealistically big, then it probably does not exist. Chances are it is just their way of tricking you into trusting them with your money.  So, before you make a deposit required in order to receive the promised bonus, read the comments made by the people who were in the same situation. They were scammed, their money was gone, and there is a possibility they were victims of identity theft. Provided you gather enough information regarding the subject, you do not need to concern yourself with whether you will make the same mistake.
No withdrawal
All trusted online casinos allow you to withdraw your money. That should not even be discussed. Fraud ones, however, will prevent you from doing such a thing by simply not giving you the relevant option. You need to be aware of the fact that it is illegal, as you have the right to decide whether you want to get your money back or not. It is better not to make a deposit at all and wait until you find a website you know for sure is legitimate than to risk your money and personal information.
Pushy promotional methods
As you probably already know, your personal information, such as your phone number and your email address, is confidential. A trusted casino will only contact you if you provide it with your contact information. If you start receiving promotional material via email or phone calls from a website without your permission, you can be almost sure that the website in question is fraudulent. The reason is the confidentiality of your contact information, as mentioned above. If you did not give them your email address or your phone number, and they try to get in touch with you, they have probably obtained the information illegally.
Payouts are not delivered
When you win money at an online casino, you should receive your payout within the time period stated in the casino banking policy. However, if you have already waited for quite some time and the payout is still not delivered, chances are you will be waiting forever, as you have been scammed.
Regulatory issues
Every trusted website has the regulatory authority's information written at the bottom of the page, as this particular piece of information needs to be visible to everyone. If you are thinking about using an online casino that has not made the relevant piece of information transparent, you should probably avoid it.
Report a fraudulent online casino
In case you have already been scammed, there is still something you can do to help yourself as well as others – report the scammer. You can file a complaint against the website that scammed you by contacting the Federal Trade Commission. Your report will be taken into consideration, and if it is valid, the reaction will be in accordance with that.
Another useful thing you can do is alert other people, your family, friends, and acquaintances, using social media. Let as many people as possible know about the unfortunate event, so that the scammers have fewer opportunities to do the same. The more people know, the better – the fraudulent website will have fewer victims at their disposal.
How to find a legitimate online casino
Now that you know how to recognize a fraudulent gambling website, you are certainly wondering how to find a trusted one. Gambling should be fun and profitable, if you are lucky enough, so you want to enjoy it as much as possible, instead of wondering what could go wrong. You do not want to be concerned, you want to have a good time, so you need to be informed on how to achieve your goal. In this section, you will find some useful pieces of advice that will help you do that.
Is the website licensed?
When you are choosing a gambling website, you need to know for sure whether it is licensed. You are supposed to trust it with your money, so you need to be certain. The information regarding licensing and regulation can be found at the bottom of every trusted website's homepage. If that is not the case with the site that interests you, that is the most prominent sign something is out of order.
If the website is licensed, the next thing you should dedicate your attention to is the base of the authority that licensed and regulated it. The reason is the difference between different parts of the world when it comes to the legislation.
For instance, if you live in a European country, you should choose one of the online casinos that are licensed and regulated by one of the following jurisdictions: the United Kingdom, Isle of Man, Alderney, Gibraltar, and Malta. Another jurisdiction you can turn to is Costa Rica, but you should be careful about that one, as it is not as reliable as the previously mentioned ones. The reason is that websites can get their license more easily, as they are allowed to operate whatever way they want, as long as they do not provide local residents with licenses.
On the other hand, in case you are a United States citizen, you have to be aware of the fact your country has much stricter rules when it comes to the legislation. In order to remain lawful, you must choose a website legislated within the borders of your State, i.e. by your State's gaming authority.
Powered by which software?
Every gambling website is powered by a certain provider. The name of the provider tells you a lot because the reliability of the website depends a lot on the software used.
For instance, in the USA, the two most common pieces of software are RealTime Gaming and Rival Powered. If you are an experienced gambler, you are already familiar with them for sure, as they are very popular among gamblers. More importantly, these pieces of software are the best ones you can get in the United States.
Who claims the ownership over the casino?
Every website, online casinos being no exception, offer information about the company that owns it. This can usually be found in the "About us" section, along with the phone number and registration of the company. If you cannot find it there, open the "Terms and conditions" section. There is a lot to read there, but you should dedicate some time and attention to that, especially because you may trust that website with your money and personal information. If the relevant data about the company cannot be found there either, you should probably take a step back and reconsider your choice.
Is the website secure?
This is probably the most important thing you should know, given that you do not need a suspicious website to be in possession of your funds. Some ways of knowing if a website is secure are listed below.
Remember the https:// part of the URL? Take a good look at that one and make sure the "s" is there before you register because that "s" stands for "secure".
The majority of web browsers display a lock key icon in the website address if it is trustworthy. This is their way of letting you know the website has not been hacked or altered in any way, as well as indicating the website is authentic.
Tips for extra protection
You can never be cautious enough. Even if you have made sure everything mentioned above is in order, you should make sure you protect yourself even further. Just follow the steps described below to avoid any incident that may occur.
Your password should be strong. That means you should use a new password for each website you register at, rather than recycling old ones. It may be a fuss, but it is highly recommended, as your password is the first and most important protection from hackers. It needs to be a combination of numbers and letters, long enough and unique.
Two steps verification strengthens your password even further, so it is advised that you use it, even if you find it annoying. Better safe than sorry.
Answer the security questions and remember your answers. Choose a question nobody would be able to answer, except for you, and to which you cannot forget the answer. That way, you will be protected and enabled to access your account even if you forget your password.
Change your password once in a while, in order to make sure you remain the only person who can access your account.
Be careful when you receive an email that requires to verify your username or password. Chances are it is spam, even if you do not recognize it as such. It would be best if you just ignore such emails.
Keep track of your payments, just in case a suspicious payment appears. If you keep record, you will easily recognize it and react in time.
Trusted and blacklisted casinos
Along with all the information about recognizing a fraudulent online gambling site, protecting yourself from one of them, and searching for a legitimate website, some names can also be of great help. There are some online casinos that are legitimate for sure, so you do not need to worry while you enjoy your favorite pastime. These casinos include the following: BoVegas casino, Cherry gold casino, Eclipse casino, Exclusive casino, Free spin casino, Golden lion casino, Supernova casino, and Two-up casino.
When it comes to blacklisted casinos, you can always refer to articles written solely about them. These articles are written by independent writers and are reliable, given that they are based on facts and experiences by online gamblers.