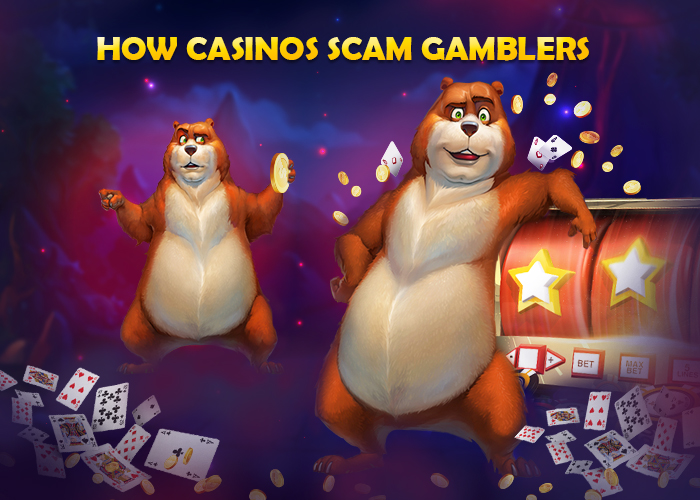 Find out how online casinos can trick gamblers and get away with huge scams! This guide will help you stay safe while gambling online.
What Are Gambling Scams and How to Avoid Them?
In the world of online gaming, virtual casinos are among some of the most popular because they offer plenty of chances to win while keeping the player entertained for hours. However, many people are skeptical of spending money online on virtual betting, table games, slot games, and similar due to a huge issue of the digital age: online scams.
While there are plenty of top casinos and reputable websites where you can gamble online, fraudulent websites employ subtle techniques to harm even the most professional players. Regardless if you are a pro player or beginner, you have to check out this article in which we break down the ways in which casinos scam gamblers and how you can avoid gambling scam.
Why We Gamble

To many of us, gambling is a fun and exciting experience during which we take many risks while enjoying the thrill of hunting big prizes and coming out on top. We can play games like roulette or poker with groups of friends or strangers and win plenty of rewards that are much larger than our initial investment.
The experience of planning your wins with a clever strategy, competing with others, or even the anticipation offered by casino games of chance is definitely something you can rarely find in any other activity. That's why many high rollers and beginner players love the thrill of it all!
For some, the pleasure is to play, while others are out to score big, however, in all cases, a lot of stigma is attached to the reputation of the gambling world. Many of the shady scams, dishonest tricks, and illegal frauds you might have seen in the movies are actually real and pose a great risk to all gamblers. And in the online world, it's possible that the risk is even bigger.
In 2018, the net worth of the industry reached over $500 billion while the online gambling industry is nearing the $50 billion mark, so it's no wonder gambling is so popular all over the world. However, even with all these huge numbers, many still consider gambling a taboo. Whether we choose to play in land-based casinos or online, we can actually find ourselves facing some major issues concerning the legitimacy of gambling. In the world of online gambling, the scams are even bigger since all your data could be jeopardized.
So we have to ask ourselves: is online gambling a scam? How are online casinos able to scam people and are there any laws for gambling on the web? Are all online casino platforms full of frauds and tricks that invade your privacy and steal your money?   
Whether you are a beginner or a gambling pro, there are some things you definitely have to keep an eye on in order to stay safe while spending your money without being cheated.
What Are Gambling Scams?
As our world progressed into the digital era, online casinos emerged in the mid-1990s and became a real wild card in the gambling industry. Today, we can play any casino game imaginable on our computers, phones, and tablets and use real money for our bets. The industry grew at a lighting fast pace and controversy surrounded the matter of regulating all online casinos. However, this has changed a lot over the previous two decades and certain laws were put in place to ensure the games were fair and verified. Over the years, it has become quite easier to spot the fraudulent websites and warning signs as well as to find reliable information on the safest online casinos. However, there is still a lot of risk and you will have to do some digging.
With some research, a beginner or intermediate player can discover which parts of the internet gambling community are dark and sketchy and which are respected and well established.
It's certainly unfair to say that the online casino industry is made up of only scammers and hackers. There are plenty of online casinos which are 100% dedicated to offering you a great gaming experience, high chances of winning, meticulous game design as well as flawless gameplay, and most of all, online safety.
Of course, all players know that gambling scams are nothing new under the sun and have been around for a long, long time in real brick-and-mortar casinos. Also, it's a no-brainer that even the players themselves can cheat and manipulate the games. In many countries, cheating the players or the casinos is illegal and punishable by law.
Concerning casinos operating only on land, some of the tricks they can use to manipulate the outcomes of the games are things like:
False dealing or shuffling.
False advertising and promotions.
Rigging mechanical or other parts of the games themselves (roulette wheel or ball, weighted dice, etc.).
Manipulating or creating rules that work in the casino's favor.
The most reputable casinos have taken some precautionary measures to make sure both their businesses and players are staying safe. Most of them employ techniques such as video surveillance, fair odds, proper licensing and regulation, or individual casino security rules per game (i.e. secure handling of money, chips and wins). Banning cellphone use, monitoring games with computer software, and other ways of regulate cheating and ensure fair play are also used.
But even with all that, fraudulent casinos are still out there in the offline and especially in the online world.
It's also important to point out that odds which benefit the casinos or a high house edge should not be considered as cheating or scamming. This is how casinos earn their money without losing a lot and make it possible for you to win big.
Rules that play to the casino's advantage are something players sign up for from the beginning because they willingly take the risk in order to win. In terms of online casino games, if it seems that the odds are sometimes unfair, you have to consider the fact that online casino games run much faster and can offer you things that are impossible in the physical world. Therefore, it may sometimes seem like the player is losing their games quickly, when in fact, they are just playing a lot faster.
Online Scams
Today, online gambling is a type of entertainment which has strict rules and laws and is generally considered to be safe if it is properly regulated. However, there are plenty of blacklisted and rogue casinos aiming to pull off big scams and if you are a beginner and don't know how to spot them, you could take a major hit.
It doesn't matter if you play browser games, use proprietary casino software or mobile versions, the bottom line is that technology is an easy thing to manipulate. If you want to gamble online responsibly, your job is to learn how to spot the suspicious content, regardless if you are a pro player or a beginner.
In terms of characterizing fraudulent behavior in online casinos, players can fall prey to:
Software that has been tampered.
Rigged games.
False promises of bonuses and prizes.
Slow or delayed transactions.
Vague terms of service that could lead to casinos not paying for any wins.
Misleading customer support.
Malware and viruses that can affect your devices.
Data or identity theft.
On top of all that, another fraudulent trend which has caused quite an uproar in the online casino world are pirated versions of famous games created by top casinos which other developers copy to create fake games (e.g. fake slot machines). The design and interface of those pirated versions looks nearly identical to the original games and it can fool even the most experienced player. In 2016-2017, even some established online casinos created a frenzy because they were the ones using pirated slot games without anyone noticing and got away with millions.
In terms of playing copied games, you could get manipulated and sign up to play with an unregulated return to player percentage. You could even unconsciously allow the casino to get permission to use your bank account, which could result in serious losses worth thousands of dollars.
As for the previously listed scamming techniques, some of them could happen right in front of you as you are gaming, and you might not even notice.
For example, the games can be rigged to subtract a small amount of money from your bet and use it for something else. Also, promises of huge bonus prizes can mislead you into spending more money to obtain them and you will keep gaming when in the end, the game will refuse to deliver the bonuses to you. In addition, the casino could delay your payout for unspecified reasons when the transaction should happen quickly or at least in a few days. Furthermore, you could also end up asking for information from customer service and not get anything specific, or the casino could exploit you with some loopholes in their terms and conditions.
On top of all those scamming techniques, your private data could be sold or exploited in some ways and your bank account could be in danger. Some suspicious casinos can also add trackers, malware and other software that could harm your devices or manipulate them to hide the fact that they are scamming you.
How to Spot Shady Online Casinos
When it comes to revealing the dark side of online casinos, you have to pay close attention to blacklisted and rogue casinos. You might never know who is responsible for these online casino scams, but if you simply look up blacklisted casinos, you will find which places you should stay away from at all costs. The best preventive measure is a good strategy!
Casinos that use the previously mentioned scamming tactics fraudulent tactics on the web are generally called rogue casinos. They can use fake licenses and mismanage money – these online casinos can even manipulate players' money to fund their business. In 2011, a US online casino was closed by the government because the casino couldn't account for $300 million of players' funds, which shows you just how much money fraudulent online casinos can "misplace."
Concerning blacklisted casinos, their activities can border on falling under the definition of cybercrime, but their organizations have perfected the skills of exploiting legal loopholes with the aim of swindling their online players.
In fact, even though rogue casinos can be blacklisted by monitoring organizations and reputable websites, and despite the fact that you can see which casinos are fraudulent online, being 100% sure is not that easy. Rogue casinos fly under the radar and use a specific strategy in which they hide from those organizations and monitoring websites without ever being discovered. This is where you need to pay close attention and protect yourself as a player.
In terms of tactics you can use by yourself, you should:
Always inspect a casino's gaming license. Since online gambling is not regulated by a specific law but a jurisdiction, the gaming license is the most important. Casinos can obtain licenses from places like the UK, Curacao or Malta. This license guarantees that they are safe because someone is in charge of checking and regulating the casino's activities according to the rules in the license.  
Only inspect casinos with licenses from the mentioned jurisdictions because others are not that strict in terms of regulating the casinos and have a bad reputation.
If you can't find information about a casino's license, you should generally avoid that particular casino platform. However, if you are still determined to continue gaming on it, look out for information or a logo by a 3rd party which performs software audits on the casino's games and ensures that they are fair.
Casino reviews made by independent sites and individual players who are not affiliated with any casino platforms are very reliable and will give you honest information and opinions about almost any online casino. Also, online forums are a great way to find the opinions of many users as well as official customer service reps from the casinos themselves.
Most review websites have their own blacklist of suspicious casinos which should be avoided at all costs.
The steps to check for suspicious casinos are fairly easy because reliable casinos should display all this information openly and have plenty of positive reviews all over the online world.
Online gambling scams can be avoided if you take these preventive measures and play in trusted online casinos. If you are a beginner, you might not be aware of online casino gambling scams and that's why it's important to take the initiative to avoid rogue and blacklisted casinos before you even start to play in casinos online. As mentioned before, inexperienced beginners and pro players can be targeted equally and you need a good strategy to know how to stay safe. Because the tactics are so shady and subtle, if you play without checking the website's reputation, you might never even know that the casino owners are scamming you.
Summary
Overall, you don't have to be a genius to know that online scams are highly unethical and that they occur more often than they should. The general climate in terms of a safe internet is still a controversial subject that doesn't only include online gambling. However, when you think about how much money players can spend on the games, it's obviously important to stay as safe as possible.
Online gambling games and websites have to be 100% safe and 100% transparent, but in many cases, plenty of suspicious websites have shown that it is easy to slip between the lines of the law and stay within legal limits while robbing you blind.
Perhaps the most dangerous aspect of gambling scams is that everyone is fair game and everyone becomes a target if they are unfamiliar with the main preventive measures. The suggestions pointed out by this article are guaranteed to keep you safe and you should definitely follow them. In conclusion, you will have a much better gambling experience when you know that you are not being targeted by scammers and when you are absolutely positive that you have fair chances to play with real odds and win real money.