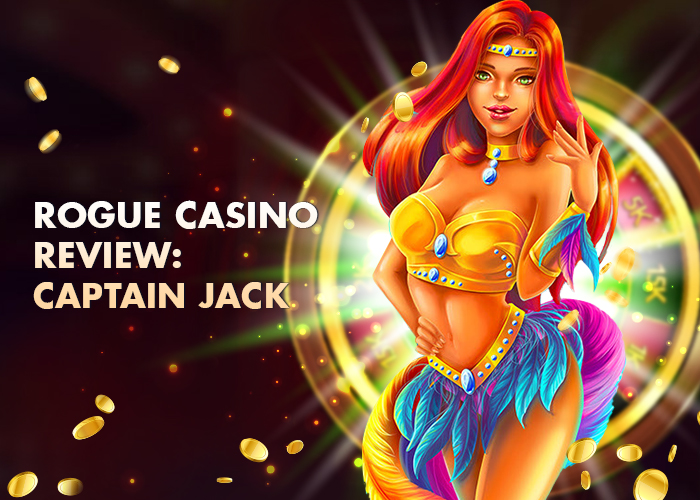 General Information: Case In Point
The dishonorable casino-formerly known as disreputable, Captain Jack continues on its Blackbeard-like journey even after its facelift. Owned and operated by Ace Revenue Group, Captain Jack is one of many blacklisted casinos associated with the Virtual Casino Group. The entire long history of the group has been negative, with a blacklisted casino list of a few, regularly failing to pay player winnings.
Licensed in unregulated jurisdiction in Costa Rica, is another way of saying they have no intention of complying with the rules or protecting the players as far as we're concerned, Costa Rica licensing is simply an excuse for the Captain to avoid the obligation of fair and ethical online gaming.
Our First Impression of Captain Jack Casino
Creating a new identity is a sign of a desire to erase your old life or name, and perhaps distance yourself from some regrettable deeds or negative connotations from your past. It probably crosses everyone's mind from time to time. In the business world of marketing strategy, this is called rebranding.

There's a good reason why Captain Jack casino wanted to change its identity. Previously known for their disgraceful customer service and deplorable way of doing business, they fittingly obtained a blacklisted casino label. From slow to non-payment issues, the massive amount of awful player's complaints follows them all over the internet.
Good Software Doesn't Always Equal A Good Casino
As we try to rate and review the overall quality of the operator objectively, we can't fail to notice that they use one of the largest software providers in the industry – RealTime Gaming. RTG is one of the most popular software providers for both players and casinos. They have hundreds of excellent casino games available under their belt.
RTG's impressive selection of games coupled with their high betting limits, apparently makes them a high point for the Captain Jack casino. In comparison to other significant providers, RTG might be giving a bit more power to individual casinos over the management of software operations.
Namely, their software allows the operator to designate return to player percentage and paytables. Most of their slots, for example, have an RTP setting that goes from 91.5% to 97.5%. Nonetheless, RTG continues to be one of the best software providers and a popular casino software in the online gambling industry.
User Experience
Captain Jack online casino, along with its sister casinos are part of the Ace Revenue casino group. They comprise a long list of casinos blacklisted in the online gaming industry. Reportedly, part of this group is also Silver Oak, Royal Ace, Slot Madness, and Planet 7. One thing is for sure, they all have the same slow withdraw history and the non-payment issue in common. They all have the same, poor customer service, and casino complaints associated with this group.
To best illustrate unethical, and perhaps illegal business practices conducted by Captain Jack, we have put together a few cases known to have unacceptable and unresolved issues.
One of many frustrated customers won a large sum of money and was expecting to withdraw his winnings. But the casino stalled his withdrawal. He then called the number listed on the info page and waited about 40 minutes for a casino rep to answer the phone. Once he finally got through to them, he was faced with unexpected details about his winnings. The representative of Captain Jack casino said that they can not pay the lump sum as a single payment and that the player would have to wait for some smaller payments. The representative further explained they could only process a limited amount of money, about $2500 at the time. According to this calculation, it would take up to two years to get his money from the casino! The outcome of this incident remains unknown to us. Case in point.
There are massive amounts of player complaints very similar to this incident. The average withdrawal time, assuming you get paid at all, ranges from five to seven weeks. And this appears to be wishful thinking in most cases. Most player comments are very explicit, and customers do not hesitate to say that it is the worst casino they have ever played at.
Personal Feedback From Players About Bonus Terms and Casinos Offer
Another peculiar incident occurred to one of our contacts when a casino representative of Captain Jack casino decided to restrict player account because it was supposedly being audited. The rep's explanation was that they audit all-new player accounts. The irony here is that the player has had this account for almost six months. The conversation went back and forth as the player tried to understand the reason for imposing limits on his account. The casino rep insisted our contact didn't have any deposit in the account, yet the player tried to deposit the money into the account. Long story short, our friend waited over 30 minutes on hold, only to be informed that he couldn't make a deposit even after almost six months of waiting.
There are many unresolved issues like this one. Transcripts from many Captain Jack player complaints are copied and exposed online as written testimony of appalling customer service, and lack of payment to those same players.
Most recently, in the case of a player pleading to get his rightfully earned winnings, he calls on watchdog groups to help him collect $17,500 in outstanding withdrawals. The poor guy has been waiting since April of 2018 to collect, but in so far has only gotten one payment! He provided a detailed account of all the entries of the Captain Jack casino cashier. All the deposits were via Bitcoin. He demanded and reapplied to get his payments since most of his cashouts were returned to his account. This issue is still unresolved.
Sticky Bonuses
As far as bonuses are concerned, it's sticky ground. They offer 100% up to $1000 with a limitation, in that your bonus will be deducted at the time of your first withdrawal. This is another disadvantage to players, as they will not get to keep the bonus initially offered by the casino.
To be fair to the casino, we are going to share one resolved customer complaint. Reportedly, the player was trying to get his $100 withdrawal since October of last year. In the attempt to collect his winnings the player made numerous requests to Captain Jack casino. He met all the requirements, submitted documents and went through identity verification with the third party. As he made a call to the casino, his first attempt to communicate with the rep was unsuccessful — he then tried emailing them, to no avail.
Their policy allows email responses for up to five business days, and ironically the customer only received a generic email about customer survey! The second time around, he managed to get through via chat, at which point they confirmed the receipt of his documents. This was his third attempt at collecting his winnings! He went through all that ordeal only to find out that the money was gone from his account, instead of being in his account. The issue was presumably resolved in that the player was promised that the check is in the mail. And yes, the check is in the mail, is a common excuse but we hope for the player's sake that he'll be able to get his winnings!
Captain Jack's absence of proper and ethical business practices was brought to light again in 2016. They've seemingly made steps towards improving their customer service and player resolution incidents. Nonetheless, as the vast number of old issues of slow payment keep emerging, we have to conclude that insufficient strides have been made toward resolving the same problems.
Verdict
Starting on the right foot with a customer can make a world of difference in the online helpfulness of customer service. Rather than help resolve some of the player complaints, and speed up the processing time of payouts, Captain Jack continues to behave like a real pirate portrayed on their site. Ironically, the modern pirates' practices aren't that different from the old days when pirates were involved in illegal activities. There is a long road ahead of Captain Jack to change the currently blacklisted status it deservedly earned over the years. In order for us to be able to recommend Captian Jack to players, they would have to make significant changes to customer service and improve the payout time.
Casino Ratings
Complaint Resolution: 1/10
Cashout Time (Withdrawal Time): 1/10
Software: 8/10
Jurisdiction/License: 2/10
Total Score: 3/10