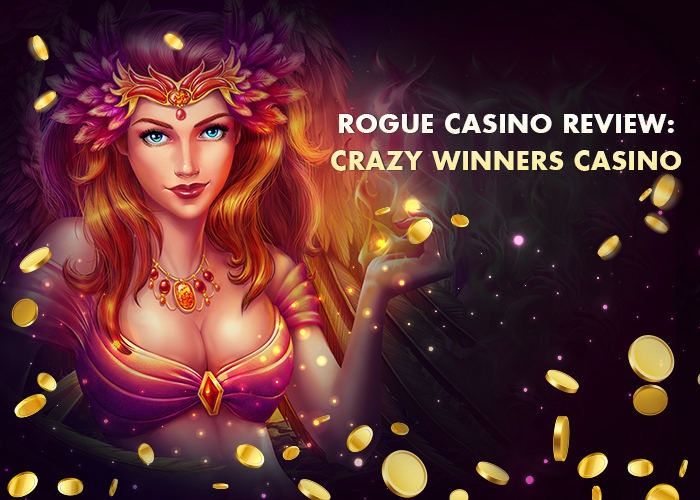 The main problem we had when we started our research on the CrazyWinners casino is that we have found lots of contradicting information that has left us completely puzzled. Bunch of the info related to the jurisdiction and license of this site was highly questionable. We had to ignore the website and dig elsewhere since the casino didn't bother to make their license info available on their site. This sign is usually pretty alarming because transparency is one of the main features of trusted and recommended casinos.
We decided to take a tour around CrazyWinners so that we can offer you an objective point of view. Here's what we have found.
General Information
Issues with the license is always a massive red flag and one of the main reasons to put the online gambling site on the list of blacklisted casinos. Every trusted casino on the online gambling scene tries to obtain a reputable gambling license that will assure players that they are at a safe place.

This is not the case with CrazyWinners. The first warning sign is that they don't have any certificate or a seal of approval displayed on the website so that players cannot be sure whether the casino has a license for gambling. When we tried to ask the customer support team where they were licensed, the answer was in Malta, which was a notorious lie that we didn't fall for. Later on, they claimed that their business operates under the Curacao jurisdiction.
However, when we wanted to check this, we found nothing. They also tried to hide the fact that they are members of the Cyberrock Entertainment group, notorious for using fake NetEnt games at several online casinos.
We really couldn't put up with this silly-named online casino after discovering all these nasty things about them. We promised to be completely objective, and we are.
First Impression
We were pleasantly surprised with what we saw when we first landed on the CrazyWinners homepage. The characters of various games that promoted special offers seemed lively and vivid while the main color is black which is a good thing in this case because the Rival skilfully-animated and lively characters pop out even more against this background.
Even though important sections are in the dark until you scroll over them when they become yellow, it is fairly easy to navigate this gambling site which was not the case with some other online casinos that have chosen similar color combinations for their websites. Important information about banking and playing options is placed at the top right corner of your screen, as well as a sign in box.
The most popular and excellently-crafted online slot games occupy the central part of the opening page. At the footer of the homepage, we came across the live chat icon, but when we clicked on it, we were asked to enter an e-mail address to be able to initiate communication with live agents. We have to stress that this was the first time we saw the combination of e-mail communication and the live chat, and we have to say we didn't like it. You either provide support via e-mail or highly responsive customer team that will be available 24/7. However, we are going to address various customer service issues later on. This confusion couldn't spoil our overall positive first impression.
This website is a perfect example of a modern up-to-date and well-designed online casino that can easily attract attention with both generous offers and tempting promotions. We wondered what we are going to find when we scratch this sleek surface, and we have only a few nice things to say about this casino after conducting thorough research.
Games and Software
Rival Gaming, a casino software provider, has built its good reputation on the variety of excellently-designed online slot games that are extremely popular among gamblers. Online casinos that choose Rival as the partner can expect amazing design and graphics accompanied with interesting storylines that revolve in various slot games. Players who visit CrazyWinners can expect to find a wide range of exciting online slots from classic three-reel slots to extraordinary i-Slots and 3D slots that will provide an unforgettable gaming experience.
Apart from online slot machines, which are Rival's signature games, you can find a selection of table, video poker, and specialty games including various versions of Keno or widely popular Cast for Cash. The table games selection isn't as abundant as slots, but classic casino games lovers will be satisfied with several poker games like Red dog, Pai gow, or Three card poker. There are also Roulette games, Baccarat, and Blackjack.
Still, it should be noted that even though games are skillfully crafted, there are some problems with the gameplay we had encountered when we wanted to try some of them out. Instead of the access to a game, a pop-up window appeared and informed us that the error has occurred and that we should contact customer service for help. This experience spoilt otherwise great impression we had of the Rival games selection at this online casino.
Video poker games include the most popular Aces and Faces and a couple of variations of Deuces Wild although the choice is extremely limited, and we think this is a shame because the Video poker games are rewarding games attractive to online gamblers. Rival Gaming provided both downloadable casino app and an instant play option to players as well as a mobile casino app available on different mobile devices.
Unfortunately for the CrazyWinners casino, the good stuff ended here, and we had to face all their carefully hidden dirty business.
Terms and Conditions
There are numerous ways online casino operators can steal from their customers. This scam casino seems to apply most of them. Let's start from the beginning.
They use so-called sticky bonuses, and although we don't think this is one of the commendable business practices, numerous casinos have them. The difference between a recommended and a rogue gambling site is that the recommended casino would be transparent about this kind of bonus. This means that you'll know from the start that the bonus can be used just for playing and that after you play it through, they will deduce the bonus from your total winnings.
CrazyWinners, however, wasn't clear about this which left many of their players disappointed and puzzled at the cashout. For instance, a player completed the wagering requirement attached to the sticky bonus, which was 35x, and his total was around $230. When he wanted to cash out, this bonus was deduced from his winnings. With the withdrawal fee added, his winnings were reduced even more. We truly think that all the casinos that use sticky bonuses are vultures and should be avoided.
Another thing we found reading this casino's T&C (and consider unacceptable) is that their casino has the right to terminate an account and clear all the money if they find out that player talked badly about them or posted a complaint against them on some of the review forums. Sorry, have we suddenly landed in North Korea?! We don't think so. This rule is simply outrageous!
The casino applies the same rule if a gambler stays away from their site longer than three months. Although every casino has rules related to account termination, they usually provide a longer period for players to come back and use their accounts, for example from 18 to 24 mo
Depositing and Withdrawal
This casino also limits withdrawals for gamblers who place deposits under $250, which is totally unfair to small-stakes players. There were many complaints related to this rule that prevent people from winning big.
As far as the payment options at CrazyWinners concerns, there are numerous ways to deposit money. However, the withdrawal options are scarce, including different e-wallets and a bank transfer. We would recommend you to use an e-wallet because you will be paid almost instantly and you will avoid a withdrawal fee at the same time. Bear in mind that they take a 3% fee on every deposit.
We have found some contrasting info about the payout time. It seems that their payout period is unacceptably long, and this is the reason for numerous complaints of their players. Finally, we have dug out the info that the withdrawal would take from 15-18 working days after you complete a verification process! Here is a player's experience that will show you how frustrating and painstaking this process is.
A customer has won a reasonable amount of money at this online casino after having fun playing their games. Withdrawal, however, was agonizing, because he had to wait for his winnings for over a month. The casino deliberately stalled the payout by requesting various additional documents for verification. The same player claimed that $700 that he left on his account simply vanished since the account was empty the next time he logged in.
Many other people claim being ripped off by this casino. They denied paying them using various excuses and just ignored their complaints. This says a lot about the customer support service at the same time. Many users described their live agents as rude and ignorant on many occasions and completely unresponsive when players tried to resolve their issues.
Pros and Cons
Advantages
An attractive website that is easy to navigate
The vast selection of Rival games, especially slots
Disadvantages
 Limiting and often misleading T&Cs devised to rip off customers
The long and demanding withdrawal process
This is a casino that doesn't pay the customers
Unresponsive, rude, and ignorant customer service
Unclear information about the license and jurisdiction
Our Verdict
Don't you ever think about visiting this online gambling site! CrazyWinner is a cheating and scam online casino. After playing with them, you won't feel like a winner, but you can easily go crazy from rage. Seriously, stay as far as possible!
Rating
Jurisdiction 1/10
Software: 7/10
Cashout: 1/10
Customer Service:1/10
Overall: 2.5/10